Guten Abend 🙂
Auf dem Weg nach Lübeck sind zur Stunde:

Linie:

MS FINNSEA, MS TRICA, MS TRANSPAPER

Tramp:
MS ST. PAULI (akt. Pos. Drammen ab, ETA 12.02., 16:00)
MS NAVITA (akt. Pos. noch in Paldiski, ETA 13.02., 21:00)
Über Nacht liegen folgende Schiffe im Hafen:
MS LENE D ( V2FF6, Antigua and Barbuda, 82 m, IMO 8611013 ) bei Nordgetreide
MS FRIEDRICH RUSS ( V2NC, Antigua and Barbuda, 154 m, IMO 9186417 ) am Nordlandkai Anl. 4
MS SABINE ( UALB, Russian Federation, 114 m, IMO 7101891 ) am Lagerhaus Lübeck
Auflieger im Lübecker Hafen:

MS HANNA

( 5BGV2, Cyprus, 134 m, IMO 9376048 ) am Querpier Lehmannkai 2
Heute gibt es aus gesundheitlichen Gründen keine aktuellen Fotos.

Am TRE-Anleger des Lehmannkais 2 wurde heute die MS EXPORTER abgefertigt…hier eine Archiv-Aufnahme vom 11.11.2013: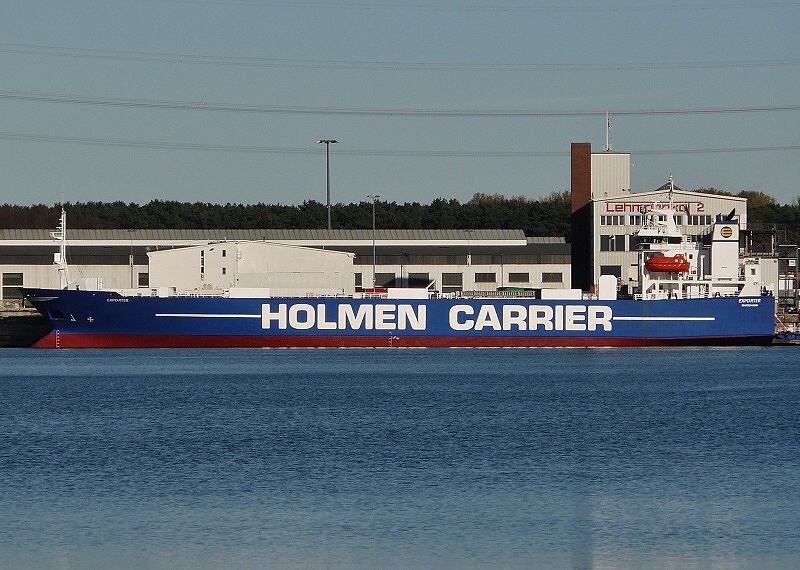 Viele Grüsse
Waterclerk