Guten Abend 🙂
Auf dem Weg nach Lübeck sind zur Stunde:
Linie:
Tramp:
MS CELINA

MS NEULAND

MS MERITA (akt. Pos. östl. Gotland, ETA 30.05., 06:00)
Über Nacht liegen folgende Schiffe im Hafen:

MS CAPELLA ( ZDGT8, Gibraltar, 89 m, IMO 9190171 ) bei Brüggen
MS AMADEUS GOLD ( PBKU, Netherlands, 87 m, IMO 9479565 ) bei Nordgetreide
MS LARGONA ( J8TE9, St. Vincent and the Grenadines, 63 m, IMO 7713345 ) am ehem. Havemannkai
MS LEMLAND ( V2GZ4, Antigua and Barbuda, 130 m, IMO 9415040 ) am Lehmannkai 1
MS BLUE ANTARES ( OXJJ6, Denmark, 77 m, IMO 8401949 ) am Lehmannkai 2
MS GENCA ( PHKD, Netherlands, 205 m, IMO 9307372 ) am Schlutupkai 2
Heute gab es dann einen weiteren direkten Wechsel im Lübecker Hafen…Schauplatz war diesmal der Lehmannkai 1…während die MS LANDY abgefertigt nach Szczecin auslief…:
…tauchte die MS LEMLAND mit einer weiteren Partie Zellulose vor der Herreninselenge auf: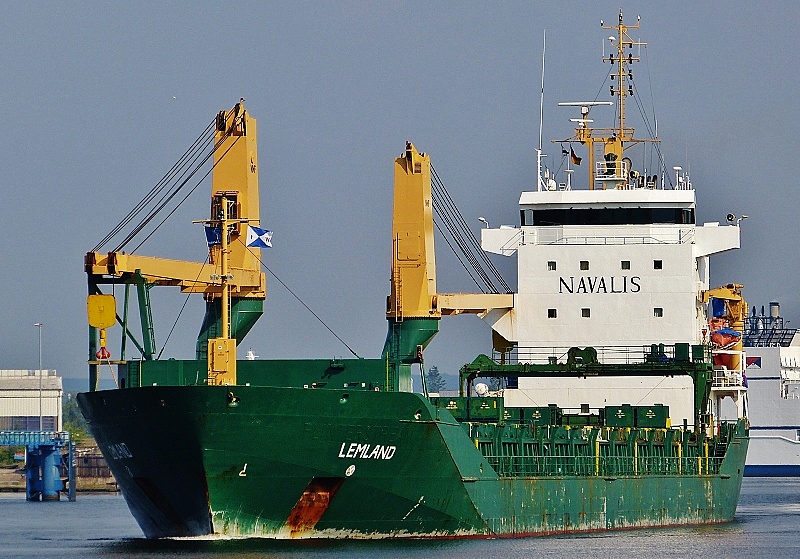 Nach diesem Wechsel konnte dann die MS SEAGARD ihre Verholung vom Nordlandkai zum Seelandkai vollenden und die Enge passieren:
Am Nachmittag war mein Spotterfreund und Hafenprofi Malte Classens vor Ort…das Port-Diary verdankt ihm diese tollen Aufnahmen…vielen Dank 🙂 .

Viele Grüsse
Waterclerk