Guten Abend 🙂
Auf dem Weg nach Lübeck sind zur Stunde:
Linie:
Tramp:
MS FRISIAN SPRING

MS ADELE (akt. Pos. Naantali ab, ETA 27.07., 05:00)
Auf Reede liegt:
Über Nacht liegen folgende Schiffe im Hafen:
MS FINNPULP ( OJQH, Finland, 187 m, IMO 9212644 ) am Nordlandkai Anl. 1
MS LAVINIA ( J8B4084, St. Vincent and the Grenadines, 93 m, IMO 7221469 ) am Lagerhaus Lübeck
MS NORRLAND ( C4KF2, Cyprus, 119 m, IMO 9358278 ) jetzt am Lehmannkai 3
MS MILA ( PHGM, Netherlands, 90 m, IMO 9331335 ) bei Brüggen
MS ADRIATA ( CQEP, Portugal, 104 m, IMO 9005376 ) am Konstinkai
MS LYRA ( CQIE6, Portugal, 100 m, IMO 9155432 ) am Lehmannkai 1
MS NAJLAND ( 9HA2709, Malta, 105 m, IMO 8806137 ) am Lehmannkai 1
Am Nachmittag liefen mit der MS LYRA und der MS NAJLAND zwei Schiffe innerhalb einer Dreiviertelstunde nach Lübeck ein und passierten hier Schlutup auf ihrem Weg zum Lehmannkai 1:

Am Abend folgte dann noch die MS ADRIATA mit einer Ladung Forstprodukte für den Konstinkai: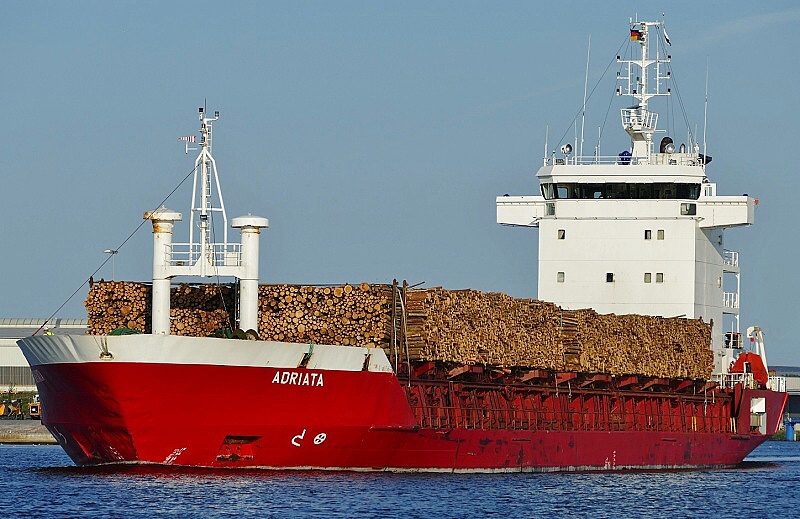 Vor Ort war heute mein Spotterfreund Georg und stellte diese tollen Aufnahmen dem Port-Diary zur Verfügung…lieben Dank 🙂 .
Viele Grüsse
Waterclerk