Guten Abend 🙂
Auf dem Weg nach Lübeck sind zur Stunde:
Linie:
Tramp:
MS REEPERBAHN

MS CALAMAR
MS RIX AMETHYST

MS CAPETAN COSTIS (akt. Pos. Nordsee vorab Skagen, ETA 30.09., 01:00)
MS DELFIN (akt. Pos. östl. Gotland, ETA 30.09., 23:00)
Auf Reede liegt:
Über Nacht liegen folgende Schiffe im Hafen:
MS BORE BANK ( OJIE, Finland, 140 m, IMO 9160774 ) am Nordlandkai Anl. 4
MS SKAGENBANK ( PHMB, Netherlands, 89 m, IMO 9313864 ) am Lagerhaus Lübeck
MS FINNPULP ( OJQH, Finland, 187 m, IMO 9212644 ) am Nordlandkai Anl. 1
MS LEMLAND ( V2GZ4, Antigua and Barbuda, 130 m, IMO 9415040 ) am Lehmannkai 2
MS GLOBIA ( J8B2794, St. Vincent and the Grenadines, 66 m, IMO 7823334 ) bei Nordgetreide
Am Nachmittag lief die MS SKAGENBANK nach Lübeck ein und passierte hier die Herreninsel…:

…und eine halbe Stunde später die Eric-Warburg-Brücke kurz vorm Anlegen am Lagerhaus Lübeck: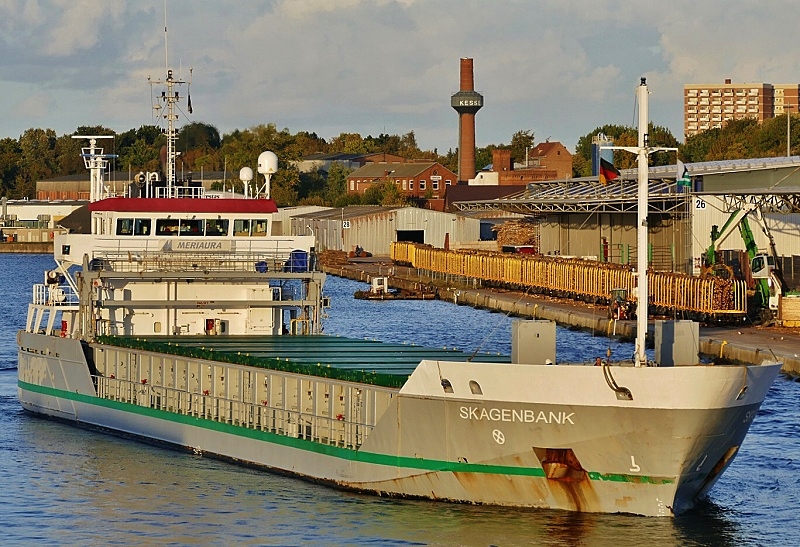 Vor Ort war heute mein Spotterfreund Georg und stellte die beiden Aufnahmen dem Port-Diary zur Verfügung…lieben Dank ? .
Viele Grüsse
Waterclerk