Guten Abend 🙂
Auf dem Weg nach Lübeck sind zur Stunde:
Linie:
Tramp:
MS IMPERATOR
MS BALTIC CARRIER (akt. Pos. Höhe Stockholm, ETA 06.12., 22:00)

MS MARIETJE ANDREA (akt. Pos. Ust-Luga ab, ETA 07.12., 07:00)
MS SUSANNE (akt. Pos. Vysotsk ab, ETA 08.12., 09:00)
Über Nacht liegen folgende Schiffe im Hafen:
MS V TRE ( 9HA4476, Malta, 181 m, IMO 9706580 ) am Rautenbergsilo
MS JUTLAND ( 5BAN5, Cyprus, 120 m, IMO 9277345 ) am Lehmannkai 2
MS GLOBIA ( J8B2794, St. Vincent and the Grenadines, 66 m, IMO 7823334 ) bei Nordgetreide
MS TUNDRALAND ( SKHZ, Sweden, 191 m, IMO 9343273 ) am Nordlandkai Anl. 2
Die am Montagfrüh eingelaufene MS JUTLAND lag heute unter Entlöschung ihrer Ladung Zellulose am Lehmannkai 1…die Aufnahme gegen 14:00 Uhr zeigt sie kurz vor der Verholung zur Restentlöschung am Lehmannkai 2: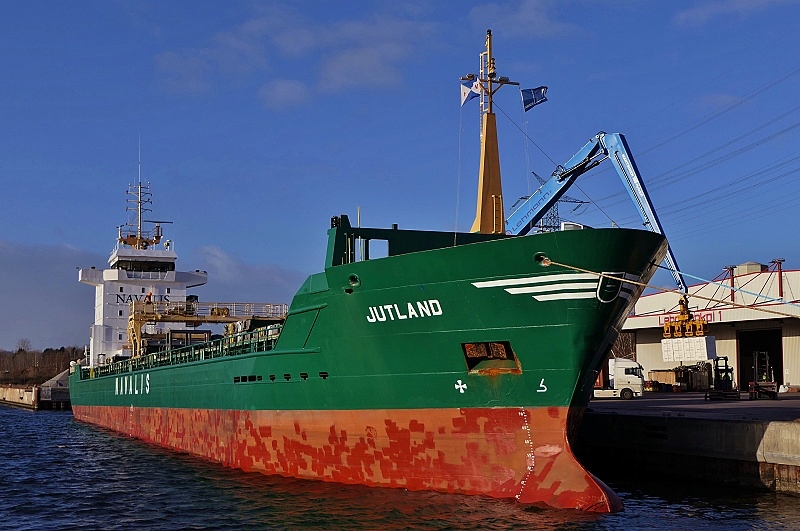 Vor Ort war mein Spotterfreund Malte Classens und liess dem Port-Diary diese Aufnahme zukommen…vielen Dank dafür 🙂 .
Viele Grüsse
Waterclerk