Tages-Archive:
18. März 2019
Guten Abend 🙂
Auf dem Weg nach Lübeck sind zur Stunde:
Linie:
Tramp:
MS ELEONORA

MS WILSON DALE (akt. Pos. kurz vor Skagen, ETA 20.03., 14:00)
MS EEVA G (akt. Pos. Höhe Mariehamn, ETA 21.03., 06:00)
Über Nacht liegen folgende Schiffe im Hafen:
MS BORE SEA ( PDFR, Netherlands, 195 m, IMO 9443554 ) am Seelandkai
MS GLOBIA ( J8B2794, St. Vincent and the Grenadines, 66 m, IMO 7823334 ) bei Nordgetreide
Am Nachmittag lief die MS DANUBIA nach Entlöschung einer Partie Kalk vom Lagerhaus Lübeck aus…gegen 17:15 Uhr passierte sie die Herreninsel auf ihrem Weg nach Kaliningrad:
Zur selben Zeit lag die MS BORE SEA in der Abfertigung am Seelandkai: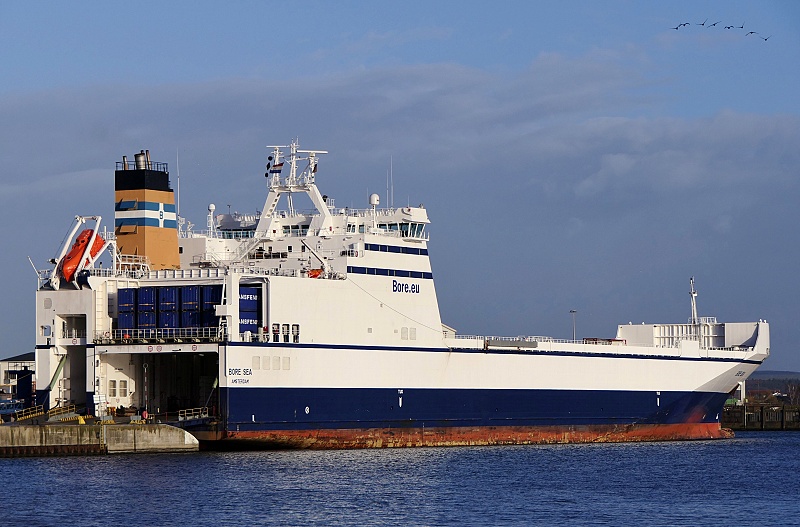 Vor Ort war mein Spotterfreund und Hafenprofi Malte Classens und liess dem Port-Diary diese Aufnahme zukommen…vielen Dank dafür 🙂 .
Viele Grüsse
Waterclerk