Tages-Archive:
22. Juni 2019
Guten Abend 🙂
Auf dem Weg nach Lübeck sind zur Stunde:
Linie:
Tramp:
MS FORSETI

MS ST. PAULI

MS WILSON GDYNIA (akt. Pos. Nordsee Richtung Brunsbüttel, ETA 24.06., 06:00)
MS NY TRADER I (akt. Pos. Bay of Biscay, ETA 27.06.)
Über Nacht liegen folgende Schiffe im Hafen:
MS BALTIC SKIPPER ( ZDFD5, Gibraltar, 83 m, IMO 9138185 ) bei Brüggen
MS KOSSAU ( V2CV9, Antigua and Barbuda, 88 m, IMO 9356878 ) am Lagerhaus Lübeck
MS VANQUISH ( PHCU, Netherlands, 100 m, IMO 9116199 ) am CTL Siems
MS SEAGARD ( OJIW, Finland, 154 m, IMO 9198977 ) am Seelandkai
Gegen Mittag lief die MS KOSSAU mit einer Ladung Dünger nach Lübeck ein…gegen 12:30 Uhr passierte sie Schlutup auf ihrem Weg zum ehem. Havemannkai:
Ihr entgegen kam das Feuerschiff FEHMARNBELT auf einer Wochenendtour nach Travemünde anl. des 111. Jahrestages seines Stapellaufs: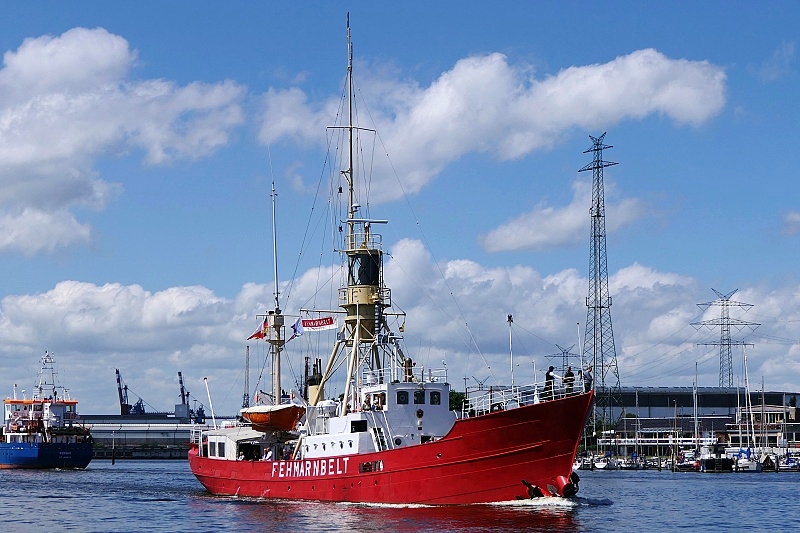 Am Nachmittag lief die MS BALTIC SKIPPER mit einer Ladung Hafer nach Lübeck ein…gegen 15:15 Uhr passierte sie die Herreninsel in Richtung ehem. Havemannkai:
Vor Ort war mein Spotterfreund Malte Classens im Einsatz und liess dem Port-Diary diese Aufnahmen zukommen…Vielen Dank 🙂 .
Viele Grüsse
Waterclerk