Guten Abend 🙂
Auf dem Weg nach Lübeck sind zur Stunde:
Linie:
MS HAFNIA SEA, MS TAVASTLAND, MS KRAFTCA, MS ASTRORUNNER

Tramp:
MS FRONTERA

MS ANTIGONI (akt. Pos. nördlich Terschelling Richtung Skagen, ETA 14.03., 13:00)
Über Nacht liegen folgende Schiffe im Hafen:
MS MISTRAL ( V2HO, Antigua and Barbuda, 68 m, IMO 6617855 ) bei Nordgetreide
MS LAVINIA ( J8B4084, St. Vincent and the Grenadines, 93 m, IMO 7221469 ) am Schlutupkai 1
MS PARAMAR ( P3ZD9, Cyprus, 90 m, IMO 9190262 ) am Lehmannkai 2
MS SOLONG ( CQBI, Portugal, 141 m, IMO 9322554 ) am CTL Siems
Vor Sturm, Regen und Graupel gab es am frühen Morgen gegen 07:20 Uhr noch einen schicken Regenbogen zu sehen…"darunter" die kurz vorher eingelaufene MS CORONA SEA am Lehmannkai 2: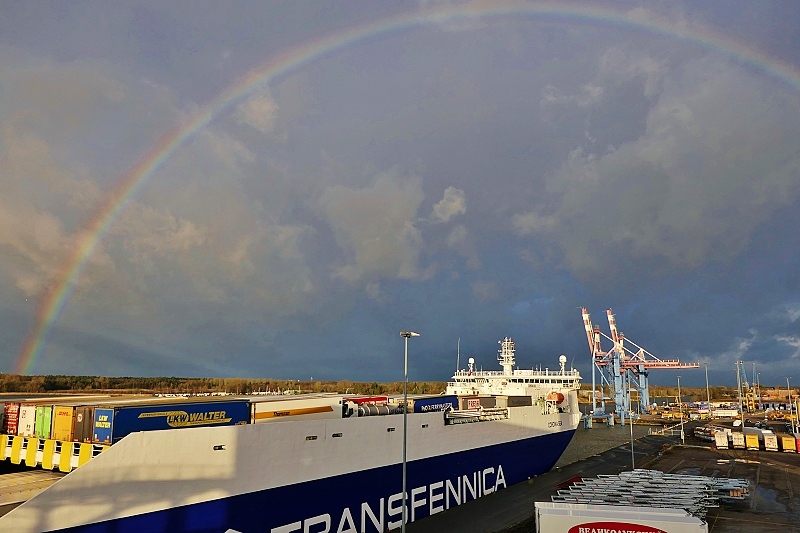 Diesen Moment hielt mein Spotterfreund und früh beschäftigte Hafenprofi Malte Classens fest…lieben Dank 🙂 .
Viele Grüsse
Waterclerk