Tages-Archive:
10. Mai 2020
Guten Abend 🙂
Auf dem Weg nach Lübeck sind zur Stunde:
Linie:
MS VINTERLAND, MS SEAGARD, MS HAFNIA SEA, MS TUNDRALAND

Tramp:
MS SONORO

MS LAVINIA (akt. Pos. nördl. Gdynia, ETA 12.05., 12:00)
Auf Reede liegt:
Über Nacht liegen folgende Schiffe im Hafen:
MS MISTRAL ( V2HO, Antigua and Barbuda, 68 m, IMO 6617855 ) bei Nordgetreide
MS ACEROMAR ( LXRV, Luxembourg, 99 m, IMO 9552082 ) bei Brüggen
MS ST. PAULI ( V2HG3, Antigua and Barbuda, 92 m, IMO 8214358 ) am Konstinkai
Besuch/Überlieger/Auflieger:
MS CAROLINE RUSS ( CQBF, Portugal, 154 m, IMO 9197533 ) am Lehmannkai 2 Querkai
Gegen Mittag lief die MS ACEROMAR mit einer Ladung Hafer nach Lübeck ein…gegen 14:20 Uhr lag sie bei Brüggen in Warteposition zur Entlöschung: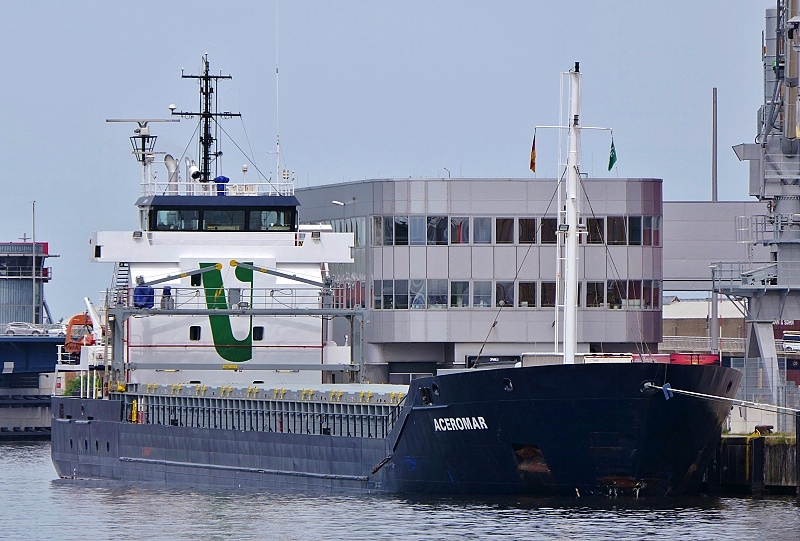 Mein Spotterfreund und Hafenprofi Malte Classens war kurz auf der Wallhalbinsel und schickte dem Port-Diary diese Aufnahme…lieben Dank 🙂  .

Viele Grüsse
Waterclerk