Guten Abend 🙂
Auf dem Weg nach Lübeck sind zur Stunde:
Linie:
Tramp:
MS MERITA
MS WILSON HOBRO

MS WILSON MONSOON (akt. Pos. südl. Kristiansand, ETA 26.08., 13:00)
Auf Reede liegt:
Über Nacht liegen folgende Schiffe im Hafen:
MS REEPERBAHN ( V2GW3, Antigua and Barbuda, 92 m, IMO 8607725 ) am Konstinkai
MS HAFNIA SEA ( 2AMH9, United Kingdom, 187 m, IMO 9357602 ) am Lehmannkai 2
MS GLOBIA ( J8B2794, St. Vincent and the Grenadines, 66 m, IMO 7823334 ) bei Nordgetreide
Besuch/Überlieger/Auflieger:
MS CONGER ( V2OO5, Antigua and Barbuda, 102 m, IMO 9122227 ) am Lehmannkai 2 Querkai
Das Offshore Support Schiff MS NOORTRUCK der Lübecker Fa. Bitunamel Feldmann kam heute zu einer Stippvisite von ihrem momentanen Einsatzort Cuxhaven nach Lübeck zum LMG-Kai…am frühen Morgen passierte sie gegen 06:15 Uhr die Eric-Warburg-Brücke: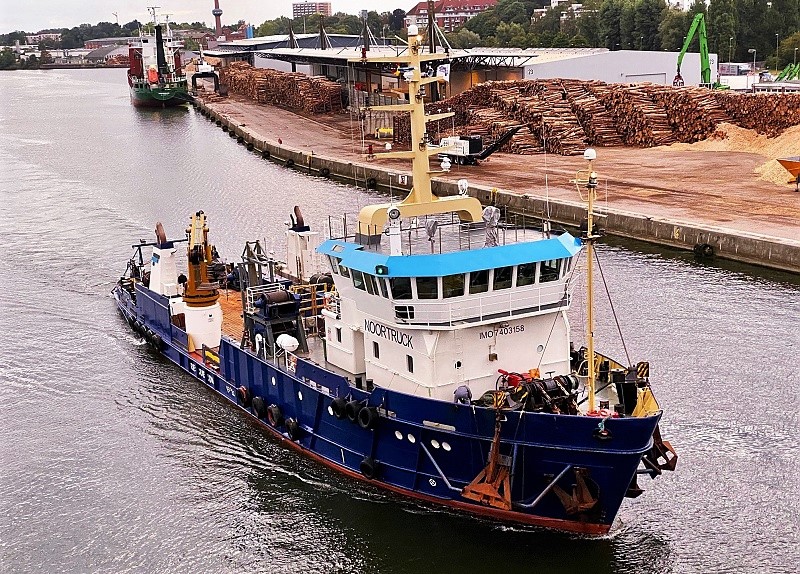 Heute früh war mein Spotterfreund und Brückenaufsicht Jo in Diensten und schickte dem Port-Diary diese Aufnahme…lieben Dank 🙂 .
Viele Grüsse
Waterclerk