Tages-Archive:
17. November 2020
Guten Abend
Auf dem Weg nach Lübeck sind zur Stunde:
Linie:
Tramp:
MS MISTRAL

MS MAXI (akt. Pos. noch in Amsterdam, ETA 19.11., 19:00)
MS NYLAND (akt. Pos. Örnsköldsvik ab, ETA 21.11., 03:00)
MS ELISE (akt. Pos. zw. nördl. Vyborg, ETA 21.11., 15:00)
MS INZHENER PLAVINSKIY (akt. Pos. südl. Sizilien, ETA 29.11., 21:00)
Über Nacht liegen folgende Schiffe im Hafen:
MS PALAU ( ZGHP5, Cayman Islands, 177 m, IMO 9261035 ) am Rautenbergsilo

MS GLOBIA ( J8B2794, St. Vincent and the Grenadines, 66 m, IMO 7823334 ) bei Nordgetreide
MS REEPERBAHN ( V2GW3, Antigua and Barbuda, 93 m, IMO 8607725 ) am Konstinkai
MS CAPELLA ( ZDGT8, Gibraltar, 89 m, IMO 9190171 ) bei Brüggen
MS LADY CHRISTINA ( PFAC, Netherlands, 109 m, IMO 9201815 ) am Lehmannkai 1
Besuch/Überlieger/Auflieger:
Heute morgen lag die MS BORE SEA am Seelandkai zur Abfertigung nach Hanko: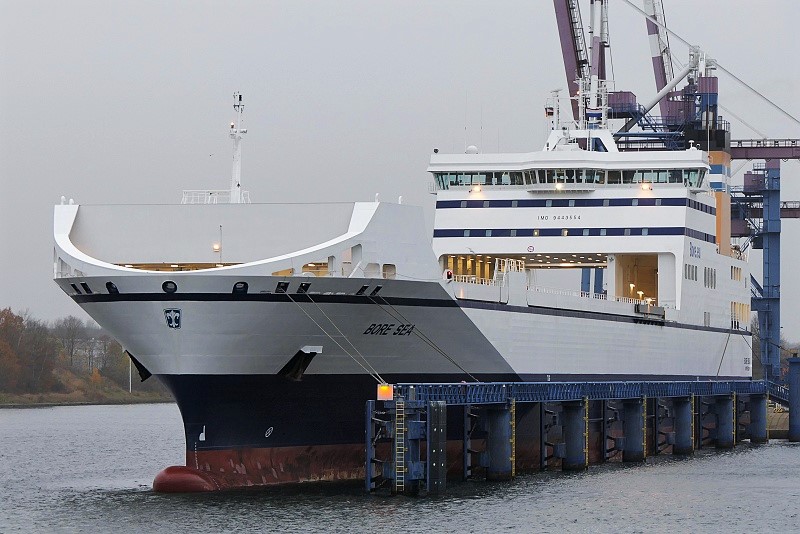 In der Frühe wurde mit der MS PALAU der nächste Bulker wieder von den Schleppern ARGUS und FAIRPLAY XII von Reede abgeholt…gegen 08:30 Uhr passierte der Verband den Lehmannkai 2…:
…und zwanzig Minuten später Dänischburg auf dem Weg zum Rautenbergsilo:
Am Lehmannkai 2 war mein Spotterfreund und Hafenprofi Malte Classens Kamera bei Hand und in Dänischburg hielt mein Spotterfreund Jo den Eingang fest…lieben Dank euch beiden für die Übermittlung der Aufnahmen 🙂 .
Viele Grüsse
Waterclerk