Tages-Archive:
14. Oktober 2019
Guten Abend 🙂
Auf dem Weg nach Lübeck sind zur Stunde:
Linie:
Tramp:
Über Nacht liegen folgende Schiffe im Hafen:
MS ST. PAULI ( V2HG3, Antigua and Barbuda, 92 m, IMO 8214358 ) am Konstinkai
MS BALTICA ( OJRI, Finland, 158 m, IMO 8813154 ) am Nordlandkai Anl. 1
MS FEMBRIA ( MPTX6, United Kingdom, 117 m, IMO 9350771 ) am Lehmannkai 2
MS HAFNIA SEA ( 2AMH9, United Kingdom, 187 m, IMO 9357602 ) am Seelandkai
MS SANDNES ( V2CJ4, Antigua and Barbuda, 166 m, IMO 9306029 ) am Lehmannkai 3
Am Vormittag lief die MS HAFNIA SEA nach Lübeck ein…um 09:30 Uhr passierte sie Schlutup auf ihrem Weg zum TRE-Anleger des Lehmannkais 2:
Eine Stunde später folgte die MS BALTICA…sie war auf dem Weg zum Nordlandkai 1:
Gegen Mittag war das Binnenschiff POSEIDON am Lehmannkai 3 gelöscht…kurze Zeit später legte es ab in Richtung Elbe-Lübeck-Kanal:
Am frühen Morgen legte die MS FEMBRIA mit einer Ladung Zellulose am Lehmannkai 1 an…hier der Stand der Löscharbeiten gegen 13:40 Uhr: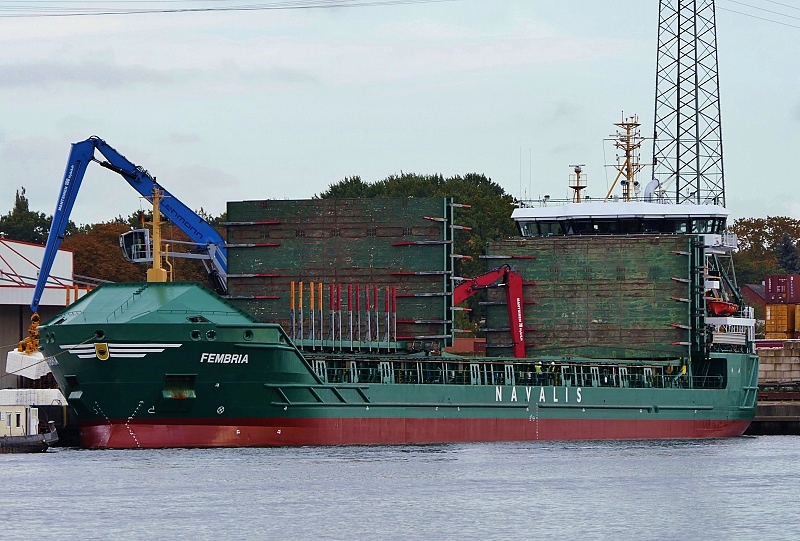 Heute war mein Spotterfreund und Schiffsmakler Malte Classens wieder aktiv und liess dem Port-Diary diese schönen Bilder zukommen…lieben Dank 🙂.
Viele Grüsse
Waterclerk