Guten Abend
Auf dem Weg nach Lübeck sind zur Stunde:
Linie:
Tramp:
MS DANITA
MS LARGONA
MS SONORO

MS NYLAND

MS TRANSMAR (akt. Pos. östl Gotland, ETA 22.11., 07:00)
MS SELENE PRAHM (akt. Pos. zw. Klaipeda und Bornholm, ETA 22.11., 21:00)
MS ELISE (akt. Pos. nordöstl. Gotland, ETA 23.11., 02:00)
MS NORRBOTTEN (akt. Pos. zw. Sundsvall und Gävle, ETA 23.11., 23:00)
MS INZHENER PLAVINSKIY (akt. Pos. Mittelmeer Richtung Gibraltar, ETA 29.11., 21:00)
Über Nacht liegen folgende Schiffe im Hafen:
MS PALAU ( ZGHP5, Cayman Islands, 177 m, IMO 9261035 ) am Rautenbergsilo

MS MISTRAL ( V2HO, Antigua and Barbuda, 68 m, IMO 6617855 ) bei Nordgetreide
MS RUBYN ( J8B2973, St. Vincent and the Grenadines, 80 m, IMO 8511885 ) am Konstinkai
MS REBECCA HAMMANN ( DFVI, Germany, 76 m, IMO 9119634 ) am Lagerhaus Lübeck
Besuch/Überlieger/Auflieger:
Donnerstagabend machte die MS CAROLINA am Lagerhaus Lübeck fest…die Aufnahme zeigt den Stand der Löscharbeiten gegen 10:00 Uhr…am Nachmittag ging es dann raus nach Vierow: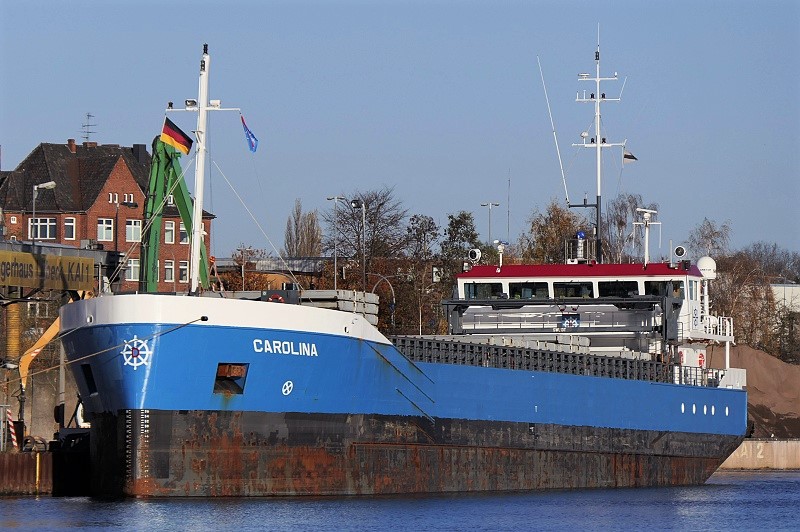 Gegen Mittag lief die MS LADY CHRISTINA vom Konstinkai aus…gegen 12:15 Uhr passierte sie den Lehmannkai 2 in Richtung Rauma:
Diese Momente hielt mein Spotterfreund Malte Classens im Bild fest und überliess die Aufnahmen dem Port-Diary…lieben Dank
.

Viele Grüsse
Waterclerk