Guten Abend
Auf dem Weg nach Lübeck sind zur Stunde:
Linie:
MS FINNSKY, MS HAFNIA SEA, MS TAVASTLAND

Tramp:
MS BELTNES
MS SONORO (akt. Pos. zw. Gotland und Öland, ETA 30.01., 07:00)

MS VALDAY (akt. Pos. Gunness ab, ETA 31.01., 00:00)
Über Nacht liegen folgende Schiffe im Hafen:
MS MISTRAL ( V2HO, Antigua and Barbuda, 68 m, IMO 6617855 ) bei Nordgetreide
MS LISA LEHMANN ( V2GL4, Antigua and Barbuda, 90 m, IMO 9325130 ) am ehem. Havemannkai
MS GROSSE FREIHEIT ( CQEA5, Portugal, 107 m, IMO 9507142 ) am Konstinkai
MS LINDA ( OJML, Finland, 141 m, IMO 9354325 ) am CTL Siems
Besuch/Überlieger/Auflieger:
MS VINTERLAND ( SLRP, Sweden, 166 m, IMO 8515893 ) am Nordlandkai Anl. 4
Rundholznachschub für die Lübecker Häfen unterwegs im Elbe-Lübeck-Kanal am Nachmittag…das Binnenschiff ZANDER brachte seine Ladung an die Roddenkoppel…:
…während Ziel des Binnenschiffes FERDINAND der Nordlandkai Anl. 2 war: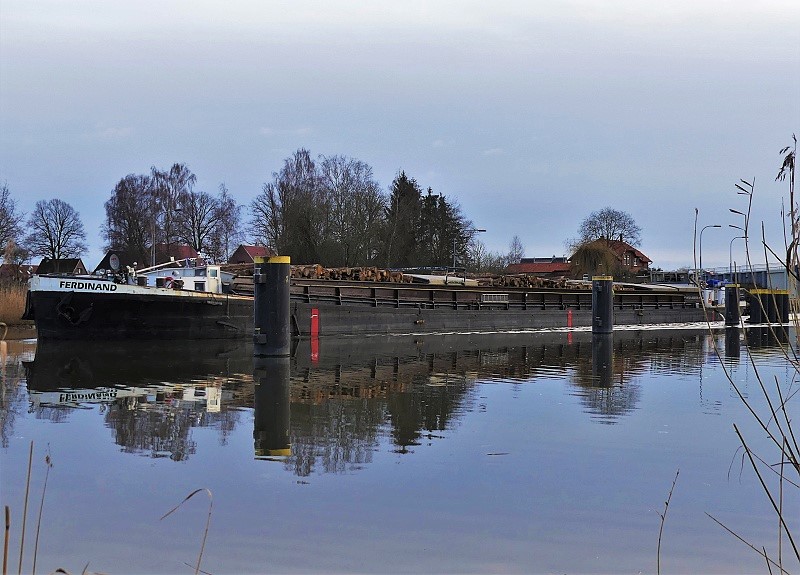 Die Szenerie beobachtete mein Spotterfreund Bernd und schickte dem Port-Diary die Bilder im Bericht…vielen Dank dafür 🙂 .

Viele Grüsse
Waterclerk