Tages-Archive:
2. November 2023
Guten Abend
Auf dem Weg nach Lübeck sind zur Stunde:
Linie – Ro-Ro/Container:
Tramp:
MS DELAMAR (akt. Pos. zw. Sundsvall und Gävle, ETA 05.11., 05:00)
MS ANNA LEHMANN (akt. Pos. südl. Helsinki, ETA 05.11., 06:00)
Über Nacht liegen folgende Schiffe im Hafen:
MS GLOBIA ( J8B2794, St. Vincent and the Grenadines, 66 m, IMO 7823334 ) bei Nordgetreide
MS FRANCISCA ( 5BSZ4, Cyprus, 89 m, IMO 9148166 ) am Lehmannkai 3
MS BORE SONG ( PDFS, Netherlands, 195 m, IMO 9443566 ) am Seelandkai
Besuch/Überlieger/Auflieger/Reparatur:
MS THULELAND ( SKEI, Sweden, 191 m, IMO 9343261 ) am Schlutupkai 2

Heute früh machte die MS STARNES mit einer Restladung Splitt am Lehmannkai 3 fest…um 13:30 Uhr ging es bereits wieder raus in Richtung Skagen:
Am frühen Nachmittag lief dann die MS FRANCISCA den Lehmannkai 3 an…um 14:45 Uhr machte sie dort fest: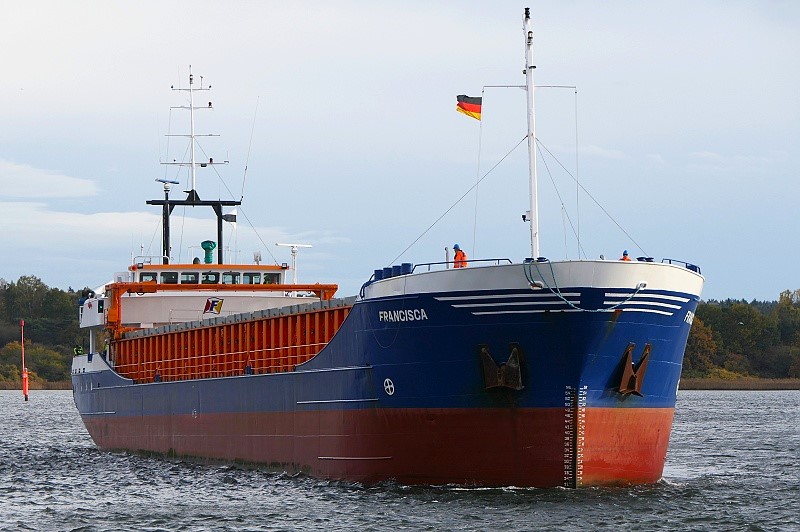 Heute war mein Spotterfreund und Schiffsmakler Malte Classens vor Ort und stellte dem Port-Diary die Aufnahmen für diesen Bericht zur Verfügung…lieben Dank dafür
.

Viele Grüsse
Waterclerk