Guten Abend 🙂
Auf dem Weg nach Lübeck sind zur Stunde:
Linie:
MS CORONA SEA, MS SEAGARD

Tramp:
MS MILLERNTOR
MS EMUNA (ETA spät)
MS LEMLAND (akt. Pos. zw. Gotland und Öland, ETA 21.10., 07:00)
MS FRI SKY (akt. Pos. zw. Stavanger und Kristiansand, ETA 22.10., 00:00)
MS EGON W (akt. Pos. zw. Tallinn und Gotland, ETA 22.10., 01:00)
Über Nacht liegen folgende Schiffe im Hafen:
MS VANQUISH ( PHCU, Netherlands, 100 m, IMO 9116199 ) am CTL Siems
MS FLEX KESTON ( V2DE7, Antigua and Barbuda, 95 m, IMO 9259068 ) am Lagerhaus Lübeck
MS MISTRAL ( V2HO, Antigua and Barbuda, 68 m, IMO 6617855 ) bei Nordgetreide
MS RIX LAKE ( 5BAM5, Cyprus, 83 m, IMO 9109043 ) am Schlutupkai 1
Gegen Mittag machte die MS FLEX KESTON am Lagerhaus Lübeck fest…wie hier gegen 13:00 Uhr herrschte heute noch Wochenendruhe: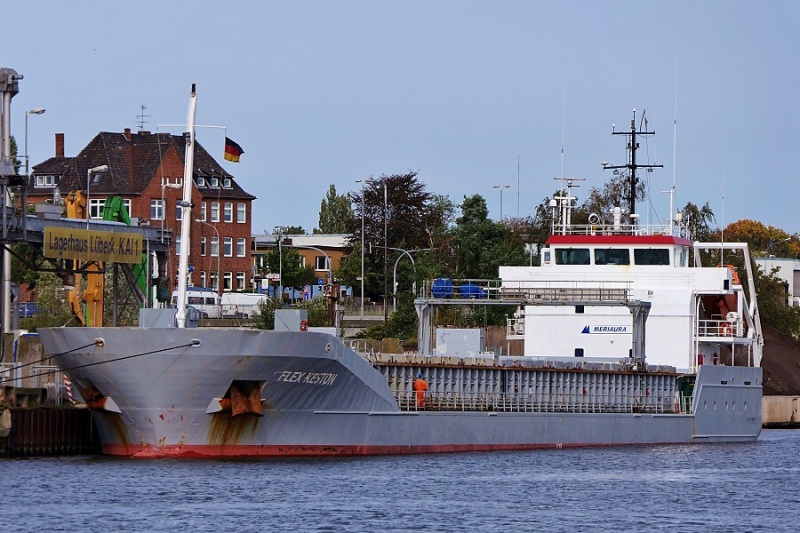 Dies hielt mein Spotterfreund Malte Classens fest und schickte dem Port-Diary diese Aufnahme…lieben Dank 🙂 .
Viele Grüsse
Waterclerk